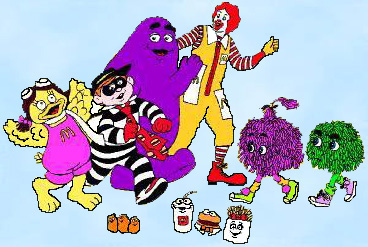 Welcome to...
McJan's
Happy Meal
Heaven
WE'RE BACK ... and definitely now THE most comprehensive collection of
McDonald's Fast Food toys for sale found anywhere on the 'net, perhaps worldwide!
Thanks for your patience while we upgraded our site!
If You Are Looking For Something You Don't See Listed,
Please ASK!! Many more updates are still coming!!
Using a MOBILE DEVICE ? Click here for a (hopefully compatible) simplified link page.
Other Fast Food Toys

**AT LONG LAST ... FINALLY UPDATED!! April 19, 2014**
Misc. McDonald's Goodies
Prices shown do not include shipping, please let me know all that you are interested in, your shipping destination (ZIP CODE or COUNTRY), and I will calculate an accurate shipping charge. Please inquire with detailed list including restaurant name, toy set name, and names of toys you are interested in. There are so many toys, it gets confusing sometimes! Thanks for stopping by!
If there is something you are interested in, please send e-mail to McJan.
Now Accepting:
**The images found on this website are for viewing enjoyment only, I am in no way associated or affiliated with the companies being represented, I merely enjoy collecting their premiums.
Problems?? Contact McJan.
Copyright 2000-2014 McJan's. All Rights Reserved.
NO part of this website may be copied in any way.

Customers Served Since August 12, 1997
May I Take Your Order?
Don't worry, it's not always accurate, last count was 18,464 visitors on 11/20/04.